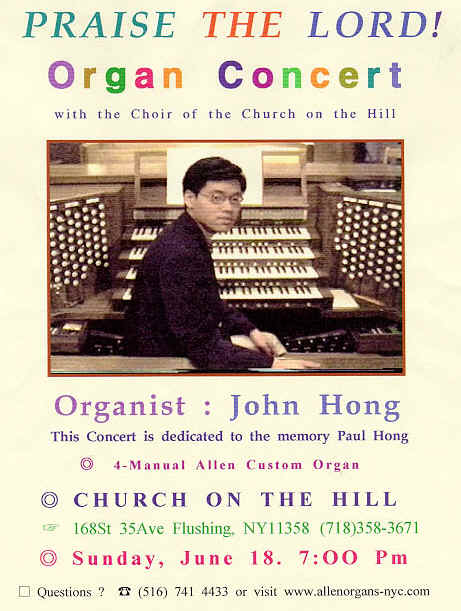 Korean English (1) English (2)
To view the program from John's concert at
The Church on the Hill, click on the above photos.

Reviewed by: Malcolm Wechsler
www.mander-organs.com
Dear Members of the Pipe Organ List and Other Friends,
A few days ago, list member Claire Arnold tipped me off that John Hong, a young (20) Korean-American organist I had met a year or so ago, was playing a concert last night in Queens, at Church on the Hill in Flushing. For reasons that may become clear below, I determined to attend, and also to drive over early, having good directions from Claire, but feeling a bit uncertain. I actually said in an IM to a friend that I had to end the "conversation" because I was "rushing off to flushing." I barely made it in time, thanks to a Throgs Neck Bridge undergoing massive construction work.
My good friend Stephen Roberts, in a list posting this morning, has provided me with a theme for what I want to say about the event. He said: "For me at least, whatever keeps audiences interested in the organ and organ music is just fine, as long as it doesn't descend to utter cheapness."
There are, to an extent, two organ music/recital worlds out there, with two often distinct audiences, and last night, I found myself in the world not normally mine, and I had a really good time, as did a large and enthusiastic audience. There are recitals/programs that do, in some way, bridge these two worlds, and it is perhaps fairer to say that last night was one of these.
John had his feet planted in both aesthetics, in both his programming and playing. He is a scholarship student of John Weaver at the Juilliard, having just finished his first year. Acceptance into Juilliard is already tough enough, but on scholarship is considerably tougher. He and his twin brother Paul were both admitted and awarded scholarships.
I met them in a New York organ crawl I arranged for my Connecticut chapter of the AGO. I had posted our itinerary on PipOrg-L so that others in the New York area might join us. Claire Arnold, the boys' teacher at the time, and a PipOrg-L subscriber, notified the boys and their father, The Rev. Eun Sung Hong (also an organist and pianist), and they joined us first at the Brick Church, and then at Riverside. Pastor Hong, who is, I think, permanently attached to his camcorder, was very busy recording our visits to those two churches, and I learned last night how his collection of self-made videos of organ-related events and visits has provided tools for reinforcing the organ learning of his two sons, who have been organ-obsessed at least since they were ten years old. I saw in a Juilliard newsletter, and I think someone also posted on one of the lists, that John Hong was playing in a student recital in Tully, and I was keen to attend, but could not. So, last night seemed the chance to catch up.
John began with BWV 565 - Of course you know what it is! Toccata and Fugue in D Minor, played from memory, brightly, cleanly, clearly, with some occasional bits of cutesy articulation and registration and some dramatic arpeggiation of big chords, but a strong performance of the work nonetheless. This was followed by a Bach Arioso, perhaps arranged by John himself - the program did not say. He might have announced it, but I have forgotten. Anyway, this was slush city, with enormous surges of intense celestial tone, perhaps a bit over the top, but it seemed to go down rather well. This was followed by a really fine and exciting performance, again from memory, of the Widor Toccata from the 5th. Very clean, very solid. Much applause, well deserved.
This first group of three pieces was probably an important bit of education for an audience that mostly, I was told, had little experience of the great organ literature, and John was no doubt the perfect person to do the job, being something of a favorite son of a largely Korean audience. His good spoken program notes were presented in English and Korean.
The next group began with the Ives Variations on America, which got everything they deserve - campy registrations throughout, with harp and bells, and lots of other touches that highlighted the humor inherent in this work - he wasn't serious, was he - Ives, I mean? I could, frankly, live without hearing the work ever again, except that on two occasions, I actually have enjoyed it. The first was Simon Preston, in a Pipedreams broadcast from Calgary a few years ago, and the second was, in fact, last night, because John had the security and freedom to make it all fun.
Next up was a set of Fred Swann variations on "O God, our help in ages past," which, if I have the story straight, John and his brother Paul, had learned from one of Fred's recordings from the Crystal Cathedral, and this may have begun life as an improvisation. On our chapter organ crawl mentioned above, Paul had played this at Riverside Church. To me, this is one long gimmick or set of gimmicks, kind of a weak caricature of an improvisation by one of the great French or English masters of such things. However, I do have to say that it really brought the house down, so perhaps "corny but effective" is the verdict.
At this point in the evening, some things happened that were really revelatory. First off, a rather remarkable tenor appeared front and center, and with all the aplomb and voice of a Pavarotti, but younger and fresher, proceeded to sing The Holy City by Stephen Adams. John was at the organ, and Pastor Hong took a seat at the piano, and they let it rip! I don't know where the Tenor, Sun Chun Park, is plying his trade, but he ought to be having a major career somewhere - what a voice, and a voice that easily soared over the combined sound of lots of organ and piano - a really thrilling experience.
This section of the program ended with a hymn - we were given a sheet with two hymns on it as we entered. I was reminded of my years in Canada, where, on certain occasions, we were asked to sing the National Anthem in the language of our choice. The words of "All Hail the Power of Jesus' Name" (Coronation) appeared in both English and Korean. I chose the English! I don't know who won - the singing was pretty strong all around, and we were accompanied by John at the organ, with Pastor Hong doing great arpeggiated riffs at the big Yamaha piano. Every stanza was in a different key, of course, with decently-done little interludes that left no doubt of where we were, and when we should breathe and begin, so it was a fun experience - NIMC (not in my church!).
The third section began with a really strange set of variations on "God is so Good." I was not helped by not knowing the tune, but I think I had it by the end. It was kind of a Quodlibet - lots of recognizable stuff and styles thrown in, beginning with the Bach C Major Prelude from the WTC, the one Gounod made use of, and moving at some point into Jesu Joy. Courtesy of the MIDI stuff, we suddenly, at one point, heard a women's chorus singing some wordless music, and later on, perhaps in the next piece, we also heard a men's chorus. It got me a bit giggly, I am afraid. The composer of this work was listed as G. Roberson. Much of it is tremendously virtuosic - really demanding on the player - but John makes it all seem easy. If you have not already gathered this, he has a prodigious technique. I am not sure there is much in the organ repertoire that would stop him.
Next we heard John as gifted arranger, in a well-practiced but not written down set of variations on "How great thou art." It was cleverly done, a sort of "feel good" music on a tune everyone knows, with lots of registrational changes, and again, some pretty breathtaking moments of great virtuosity. There was also a very brief bit of Jesu Joy!!
A group of us, including the Hongs, List members Claire Arnold, Bob Wyatt, and Steven Frank (of the Virgil Fox Society) and his wife, went out after the concert for a little something, this after a reception with all manner of Korean delicacies. One of the things we briefly discussed was copyright, and whether it applies if one takes a piece of musical property and memorizes it from a recording and then plays it. (Does Mozart owe Allegri anything?) This came up because John played an arrangement of "Great is Thy Faithfulness" by Tom Hazleton which he learned from an audio or video recording, maybe one taken by Pastor Hong. If I have the story straight, John possibly played it for Tom Hazleton, who was suitably impressed if not amazed. (John did say, at one point, that Tom Hazleton is his musical hero.) This was another set of hymn variations using all the tricks, again, brilliantly played and much appreciated by the audience. We then, in the language of our choice, sang the hymn, accompanied by John and his father, who really does know how to use the piano effectively in these accompaniments.
So, summing up, this was, for me, an enjoyable evening listening to a young virtuoso playing very well indeed, and pulling a diverse audience right along with him - clearly, a little victory for the organ. It's always fun to be part of something like that. In the realm of the serious organ literature, I heard nothing new. Like most on this list, I have heard 100+ performances of the Toccata and Fugue, the Widor, and the Ives, and the Arioso in its original form, but I enjoyed hearing John play them nonetheless, sometimes with his own individual stamp. The singing of Sung Chun Park was thrilling and beautiful, an unexpected and added bonus. What a lucky organist to have this man contribute to his recital. The last part of the program was hymns or arrangements of hymns, with a highly evangelical flavor, played in a good old Southern Baptist sort of way, and this is enough novelty to me to make it a fun experience.
The social benefits of the evening were many. I treasure having met Claire Arnold, after reading lots of her postings, and after much correspondence, her other half, Bob Wyatt, Steven Frank, another regular poster on PipOrg-L, and his wife, and getting to know the thoroughly delightful and musical Hong family, and to understand a bit of what makes them tick.
One most important person was physically absent from us, but his presence was surely felt, and that was Paul Hong, the oldest by 60 seconds of the identical twins. Paul was the dedicated organist. John was more interested in the piano, although he was busily building a powerful organ technique. It was Paul who played at Riverside church when we were there a year or so ago - John stayed in the background. Paul and John were both offered Juilliard admission with scholarships. Only John was able to accept the offer. Paul had, by that time, been diagnosed with Leukemia, and this past March, he lost an heroic battle with the disease. Last night's concert was John's memorial to his beloved identical twin, and it was a most fitting tribute. I appreciate having been invited to be a part of it.