Cathedral of St. John the Divine


Allen is the digital organ chosen most during renovations on the monumental organs of the world. An Allen digital organ was installed for months after the fire at the Cathedral of St. John the Divine, the world's largest Gothic cathedral; for nine months after the flood at Riverside Church; for nine months after the fire at Temple Emanu-El, the world's largest reform congregation in the world; for three months during renovations at St. Mary the Virgin Church; during renovations at General Theological Seminary; for four years during renovations at Longwood Gardens; for two years at Princeton University Chapel. The digital organ of choice is the Allen.
Allen--Simply the best: the best sound, the best service, the best price.


On Tuesday, December 18, 2001, one week before Christmas, an intense fire broke out in the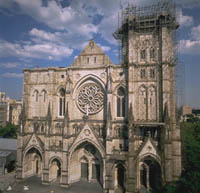 Cathedral of St. John the Divine near the altar on the left side. Through a series of fortuitous events, including quick thinking by the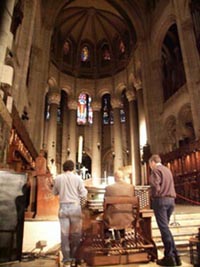 New York Fire Department, the damage was contained. The Fire Department avoided breaking the magnificent stained glass windows, but the result was great heat and smoke. Soot covered everything in the Cathedral, including the four-manual Aeolian-Skinner organ.

The next day Cathedral organist Dorothy Papadakos called Allen Organs and a new three-manual Renaissance digital organ was installed temporarily on the first floor at the front of the chancel during the months needed to completely clean the Aeolian-Skinner organ.

Doug Hunt (right), curator of the Aeolian-
Skinner organ, confers at the beautiful
Cathedral of St. John the Divine with Allen
service manager Mike Corio (left) and Allen
Organ Studios president Bob Wyatt (middle)
about the voicing capabilities of the Allen
digital organ.

The Cathedral of St. John the Divine in New York City was host to the Manhattan Festival of Sacred Music on June 12, 2001.
This concert featured nine choirs and concluded with a performance of the Requiem by Maurice Duruflé for choir, soloists, orchestra and organ. Noted organist Paul Oakley was the conductor.
A four-manual Allen Renaissance™ organ was installed for this concert. Organist Timothy Belk was the primary accompanist for the occasion. The Allen Organ spoke with grandeur and authority. Organist Belk provided just the right colors for the compositions that used the organ. Once again, when musical results are important, people turn to Allen.