Riverside Church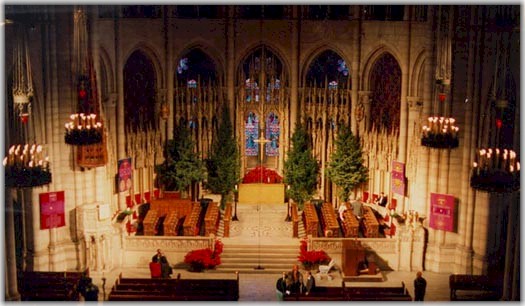 Following electrical problems that caused the failure of the Nave organ, the 2500-seat Riverside church in New York City, one of the most prestigious churches in the world and home of one of the ten largest organs in the world, installed an Allen Organ while its world-famous Aeolian-Skinner organ was being repaired.
On Thursday, December 2, 1993, Dr. Timothy Smith, director of Music, called the local Allen Organ dealer, Allen Organ Studios, Inc., of Long Island. With many services and concerts scheduled, time was an important factor. An MDS-55 with tripled audio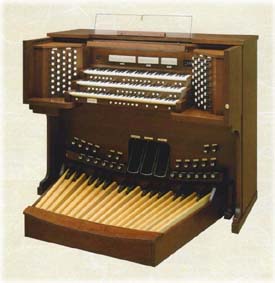 equipment (richness boost plus antiphonal organ) was installed and played the next day. Within a few days, a two-story scaffold had been built behind the reredos by Riverside Church's craftsmen to accommodate the audio equipment. The schedule of Christmas services and concerts was able to continue without interruption.
A month later, the MDS-55 was removed from the Riverside Church for loan to another New York City church, a commitment which had been made months earlier. An MDS-70S Deluxe, with doubled audio equipment, was installed in the Riverside Church for use through the coming months. The Sunday morning worship service is broadcast weekly at 5:00 AM on Radio Station 106.7 FM.