Rainbow Room Gala
(This was the first time in 40 years that an organ had been heard in the Rainbow Room!)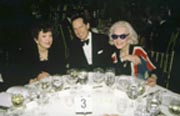 Stella Adler Centennial Celebration
Features Successful Alumni and Friends
Sidney Lumet, Benicio Del Toro and Harold Bloom Honored
Bette Midler Performs
NEW YORK CITYThe Group Theatre Society presented "Stella by Starlight," the first-ever fundraiser for the Stella Adler Studio of Acting, to commemorate the 100th anniversary of legendary acting coach and the woman credited with bringing the Stanislavski technique to AmericaStella Adler. The Rainbow Room gala was a sparkling affair attended by former students, longtime friends and celebrated individuals from the worlds of entertainment, literature, and society.
The Stella Adler Studio presented their first annual awards. Sidney Lumet, Academy-Award nominated director and member of the original Group Theatre, was honored with The Group Theatre Award. Benicio Del Toro (pictured at right, with Lauren Bacall), Academy Award-winning actor and former student of Stella Adler, was presented with The Stella Adler Award. Harold Bloom pre-eminent literary critic and author was given The Jacob Adler Award.
The tribute performances were extraordinary. The evening began with a rendition of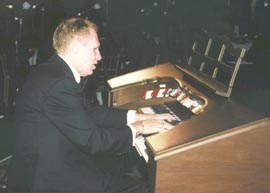 "Stella by Starlight" played by internationally renowned organist Larry Douglas Embury (right) on an Allen Renaissance Theatre Organ with Bob Van Allen on piano. This was followed by "25 Great American Plays of the 20th Century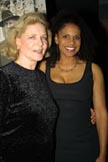 in 25 Minutes," especially written by Gordon Hunt for this event. The piece featured Kaitlin Hopkins, Robert Sean Leonard, Audra McDonald (pictured at left with Lauren Bacall), Jack McMartin, Roy Scheider, and Lois Smith. The evening's entertainment ended with a very special performance by Bette Midler, who once studied with Stella Adler. She lit up Stella by Starlight" with her rendition of "Laughing Matters," "I Regret Everything," and Wind Beneath My Wings."

The honorary chairman of the evening was famed Stella Adler alumnus Marlon Brando. The evening's chairmen Mike Medavoy and Harvey Weinstein were joined by co-chairmen Ellen Barkin, Zoe Caldwell and Roy Scheider (pictured at right with Anna Moffo), and dinner chairmen John and Barbara Hearst.
Tom Oppenheim, President and Director of Stella Adler Studio and the grandson of Stella Adler, and Ellen Adler, Executive Chairwoman of the school and the daughter of Stella, welcomed guests to the Rainbow Room and were on hand to talk with over 250 guests about the Studio's plans for the Next Century of Stella.
Tom Oppenheim commented, "Our first-ever Stella event, 'Stella by Starlight,' was a rousing success. So many of Stella's former students and friends were extraordinarily generous and for that we are truly grateful. The funds from this endeavor will be used to advance many important programs at our new facility on 27th Street. This evening was a wonderful tribute to Stella's memory."
The new Stella Adler Studio of Acting, located at 31 West 27th Street in Manhattan, occupies a 10,000 square-foot space and boasts a world-class faculty and remarkably high enrollment. The Studio is designed as a place for students to attend class in one of nine studios, collaborate with peers in theatre-style rehearsal spaces and perform in one of the two in-house theatres. Mr. Oppenheim has organized the new Studio with special concentration on the structuring of actor training programs that uphold the tradition of the Stanislavski technique, maintain the philosophy of his late grandmother, and open new doors for young actors.
The evening raised more than $300,000 to further the work of the Stella Adler Studio and the Group Theatre Society.
For further information, please contact:
Carrie Waible
SAVVY Partners, Inc.
T: 212.813.3858
F: 212.244:6875
E: cwaible@savvypartnersinc.com