Luxury Bus Tours
1997-2001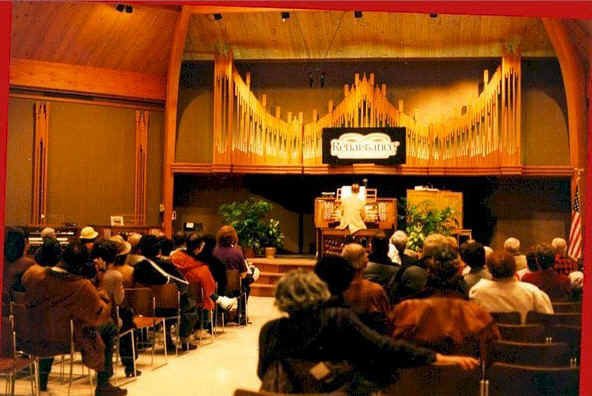 Over the past few years Allen Organ Studios, Inc., has sponsored several luxury bus trips to the Allen Organ Company in Macungie (ma-KUNN-jee), PA, where Tom Hazleton was the featured performer and host. After Tom played an exciting and colorful program on both classical and theatre organs, a delicious lunch was enjoyed. En route back on several of the trips, a stop was made to hear an Allen-pipe installation. Seibert United Methodist Church, Packer Memorial Church of Lehigh University, and Saint John's United Church of Christ in Nazareth have been visited and, when time permitted, participants were invited to play.


March 2001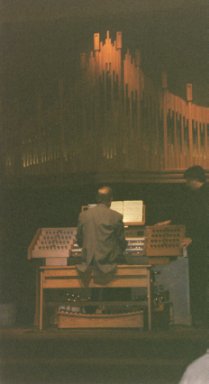 Tom Hazleton (left), assisted by page-turner Steve Frank, opens the program with an exciting performance on the Allen three-manual French concept organ.
Quotes from participants in the March 2001 bus trip!
"I am president of the Virgil Fox Society, and I can tell you that Virgil never played his composition 'Princeton Loyalty' like that!" Steve Frank
"I really enjoyed the bus trip. Thanks, Bob & Claire. I'm already thinking about the next trip. Tom is the greatest organist in the world. His playing is very spiritual and amazing. Wonderful! I love Tom, and I wish he would keep doing this work his whole life. Thanks, everybody." Jane Ahn
"Thanks to Bob and Claire. It was the greatest time in my life." John Hong
"Magnificent! Call me whenever you schedule an excursion." Joy Sommersett
"I look forward to this trip every time you have it." Dick Wessely
"We're glad we were more exposed to organ music. I enjoyed all the playing." Dorothy Freeman
"It was a wonderful program. Next time Tom plays, have a duet on piano and organ and maybe I or someone can sing a popular song with Tom accompanying. Also, it would be nice for Bob and Claire to dance with the theatre organ selectionsóWaltz, etc. Also look forward to another great trip. P.S. Tom is an amazing perfectionist." Walter Gold


Veteran's Day 1997
Another trip was co-sponsored by Allen Organ Studios and the Queens Chapter of the
American Guild of Organists. Kenneth Blue, Dean, sent a letter in response to the event.
Below–group photo from this trip!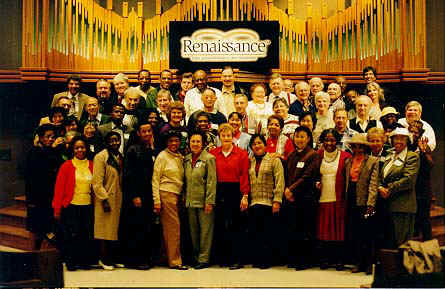 One of the stops on this trip was at Packer Memorial Church, Lehigh
University, to hear and play the Austin/Allen that is installed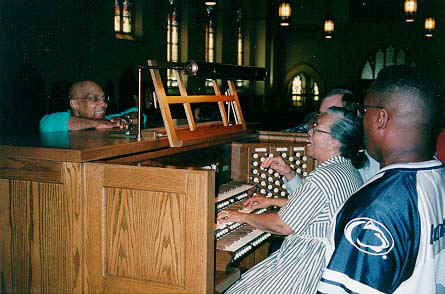 Above, Everyl Gibson plays the Hallelujah Chorus for Harold Harper (right),
while Tom Hazleton changes registration to bring on the solo trumpets!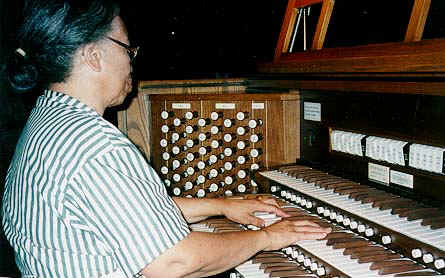 Juilliard graduate, Everyl Gibson, played excerpts from the Messiah on the
Austin/Allen organ installed in Packer Memorial Church, Lehigh University.