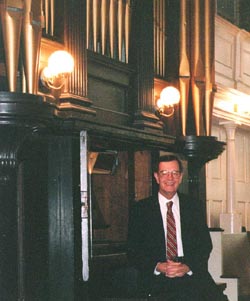 Tom Hazleton presented an exciting and colorful concert on the three-manual Allen organ at the First Chinese Presbyterian Church, 61 Henry Street, Chinatown, NYC, on Sunday, November 1, 1998. The Choir, which was under the direction of guest conductor Ms. Teresa Cheung, performed two anthems accompanied by Mr. Hazleton.
A master at entertaining audiences, Mr. Hazleton did what he always does so well: he combined various themes in his improvisations to highlight the day and the location. This is his signature and audiences have come to look forward to hearing it.
The concert was given on All Saints' Day, November 1, and the program opened with his orchestral improvisation on "For All the Saints," the great hymn tune by Ralph Vaughan Williams. Throughout the program, a variety of orchestral sounds were featured, including—near the end of the program—wood blocks playing music in a Chinese style.
All Souls' Day (or Hallowe'en) had been the previous day and Mr. Hazleton brought to mind the anniversary of the Protestant Reformation by playing Faulkes's extended and exciting variations on the majestic Reformation hymn "A Mighty Fortress" by Martin Luther.
In the final reference to the day, Mr. Hazleton closed the program with a fitting climax in the Boellmann "Toccata" from Suite Gothique, a piece frequently associated with Hallowe'en.
In addition to the three-manual Allen organ in the front of the church, First Chinese Presbyterian Church has, in the gallery, an historic Erben organ from the early 1800s (pictured above).
To view the program from the concert, click here.