Ramakrishna-Vivekananda Center
New York City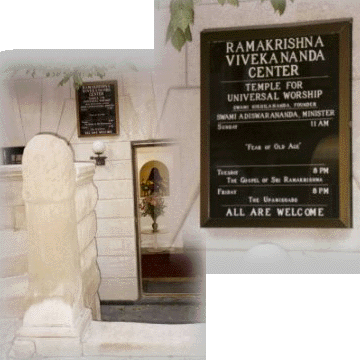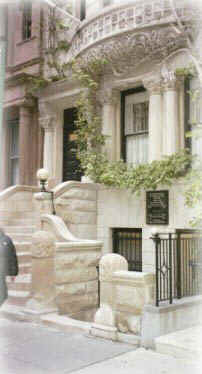 The Ramakrishna-Vivekananda Center of New York is an accredited branch of the Ramakrishna Order of India.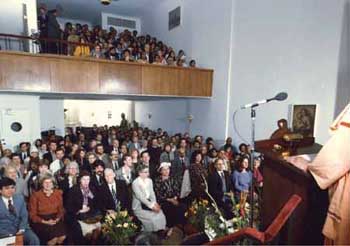 Since 1933, the Center has been located in a beautiful five-story townhouse which was renovated to have four floors, so the worship center can have a balcony.
The Center seeks to stimulate the growth of the individual's innate spirituality through lectures, discourses, publications, and individual guidance. The disciplines the Center provides are suited to individual needs and temperaments. It does not deal with the occult or the sensational and offers no easy shortcuts.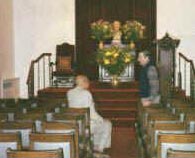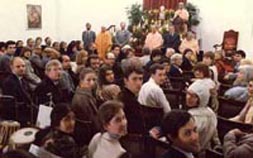 Director Barry Zelikovsky (right) The happy faces of the congregation
confers with Bob Wyatt (left) re- reflect their joy at the 50th anniversary
garding the details of the installation. celebration for the Ramakrishna Center.
On Sunday, January 14, 2001, Bob Wyatt, assisted by Claire Arnold, played a 30-minute program highlighting the variety of orchestral and organ sounds in the new instrument.
ROBERT L. WYATT with CLAIRE ARNOLD

PROCESSIONAL and FANFARE
Trumpets and Ceremonial Effects
R.L. Wyatt
THREE FAVORITE THEMES FEATURING ORCHESTRAL SOUNDS OF THE ORGAN
Air for the G String
Solo Strings, Solo Flute
J.S. Bach
Greensleeves
Chines, Music Box
Trad./Wyatt
Sugar Plum Fairy
Celesta, Clarinet
Tchaikovsky
TOCCATA IN D MINOR
Full Range of the Organ
J.S. Bach
TWO SPIRITUALS arranged by R.L. Wyatt
Amazing Grace
Inspirational Music
Let My People Go
Pedal Solo

RAMA and NAREN SANTAYANA
(9 & 12-year old sons of the Center's music director)

Prelude in C Minor
(Rama Santayana)
Piano Sound of the Organ
J.S. Bach
Doctor Gradus ad Parnassum
(Naren Santayana)
Piano Sound of the Organ
Claude Debussy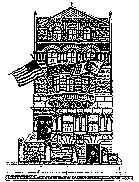 Dear Bob and Claire,
Please accept our many thanks for your kind holiday greetings and the gift of three pre-recorded diskettes for our new Organ. May the season be a joyous one for you and may you have a New Year filled with peace, happiness, health and well-being.
We are so happy to have our new Organ in time for Christmas, and we are already enjoying the difference. Our Christmas Service this year will be all the more special. All of us are looking forward to Sunday, January 14th, when we will have the special "Organ Dedication Recital" that you have arranged for us.
We couldn't be more pleased with the service you have provided for us from the very beginning. Your personal involvement in every aspect, from selection and installation, to training in the use of the instrument, has been a great help. The enthusiasm you have about the Organ and its capabilities is contagious and we can't wait to experience all that it can offer.
Again with our thanks and best wishes, and looking forward to seeing you on January 14th.
Sincerely,
Barry Zelikovsky