R. John Denaro
(Sadly, Mr. Denaro passed away in May, 2001. We dedicate this site
to the honor of his memory, for he loved music and the organ.)



R. John Denaro has loved the organ his entire life and was already
recording at an age when most young people are in kindergarten!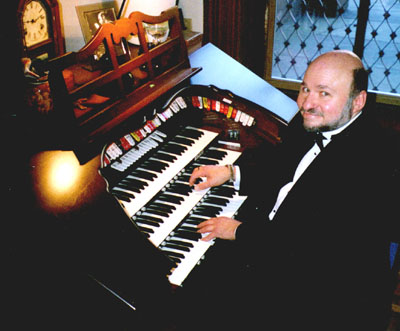 "In 1949, Mr. Keller sold my father a PHILCO radio-phonograph console. In between the tiger-wood bars protecting the grill and speaker, finger hole grips allowed the front of the cabinet to tilt and reveal the turntable. The turntable had two (2) arms, one for playback and one for cutting your own record. (The old man, being very frugal, purchased only one (1) vinyl disc.) So, at 5 years of age I recorded "Gim'me a little kiss, will ya, huh!" and "Buttons and Bows." And so began my music career. (Truth be known—the burning vinyl had an intoxicating aroma.)
"Piano followed at 7, accordion at 8, and at 17 I built a Thomas electronic organ by Heathkit.
"Whenever I got the chance, I asked the organist of our parish church if I could watch—always fascinated by her footwork. Then there was Radio City every Christmas and Easter. I'd drag my mother down to the console (literally), which wearied her to no end! (So much for reading the writing on the wall!)
"Somewhere in the following years, I caught a newspaper clipping announcing an Allen organ demo in the Macy's department store studio. If memory serves, it was Bon Smith demonstrating what seemed to me to be a huge console on a platform surrounded by gyrophonic speakers. And I felt like I was in Radio City. And the seeds of the dream were planted.
"Along the way, the seeds got watered and fertilized. I was part of our high school stage crew. We went to Midwood High, in Brooklyn, to mount the "Mikado". On the floor of the auditorium was what I suspected—a large organ console. I never got to play it, but I knew it was an Allen when I could see the gyrophonic speakers mounted high behind grill screens to the right of the proscenium.
"And while walking through the then Pan Am building (now the Met), I heard a most familiar sound. Although it turned out to be a Wurtillizer (Wurlitzer to you civilians!) with two Leslie's, the man at the console was this suave sophisticated gentleman by the name of Bob Wyatt (no kidding gang!). And I "stole" one of his interludes from his rendition of "Brazil."
"My MDS-312 will celebrate its 5th birthday in a new home this November. And even though I probably will not have exhausted all its resources in the next 20 years, I'm dreaming of the new George Wright Signature.
"My experience of the Allen organ—its sound, its sights, its quality—has always been top notch, and that also goes for the team: Bob Wyatt, Claire Arnold, Ruth and Mike (serviceman).
"Thank you, Allen, for being the class act that you are!"
R. John Denaro, Brooklyn NY