Trinity Baptist Church
New York City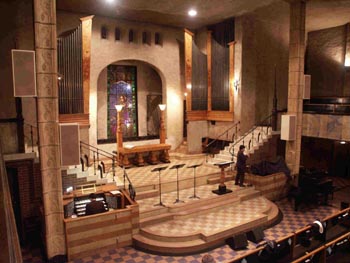 The distinctive Scandinavian architecture of Trinity Baptist Church, is unique.
The pipe chambers, behind the pipe facade on either side of the altar, house
the richly doubled main organ, while high in the rear of the balcony resides
an antiphonal organ of the swell and the solo divisions. The columns in front
hold the public address system speakers. John Hong, left, performs at the or-
gan console, from behind a modesty panel.
The four-manual 70-stop Allen Renaissance organ at Trinity Baptist Church, 250 East 61st Street, between 2nd and 3rd Avenues, New York City, replaced a three-manual 26-rank pipe organ. Organist Don Frazure states, "The organ is wonderful and we are pleased with its quality and construction. The Allen organ and the wonderful acoustics of our sanctuary blend together to make this organ really 'sing'! It is such a joy to have an instrument that can do it all and then some!"
The church, which is located a block north and half a block west of the Manhattan base of the tramway on the upper East Side, is a beautiful brick building featuring unique early 20th-century Scandinavian architecture. Says music director William Mak, about the organ, "I love it."
Organist Don Frazure, left, and John Hyunil Hong (right) were the organists for the dedication of the four-manual 70-stop organ at Trinity Baptist Church.


Bob Wyatt congratulates John Hong.

Claire Arnold, left, and Bob Wyatt congratulate John Hong after he and Don Frazure received a standing ovation for their fine performances at Trinity Baptist Church. John's program, which was played completely from memory, included the Fantasy and Fugue in G Minor ("The Great") of J. S. Bach, the Variations on America by Charles Ives, and a hymn improvisation.

"The four-manual 70-stop organ at Trinity Baptist Church is the most spiritual organ I have ever played. I would like to be able to play it every day," says John Hong.