St. Mary, Star of the Sea, Church
Far Rockaway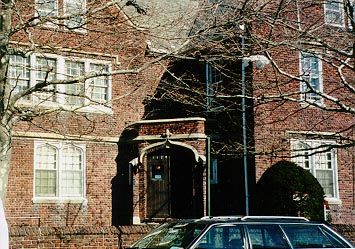 St. Mary's Church was established in 1857 and since then has grown in both size and diversity. Located at 1920 New Haven Avenue, Far Rockaway, New York, 143 years later it still serves the surrounding Catholic community.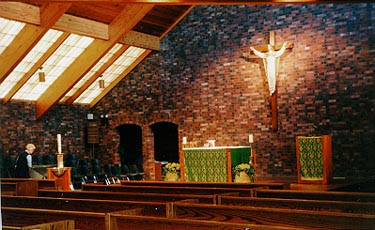 (Interior of St. Mary, Star of the Sea...Mary Mooney, far left.)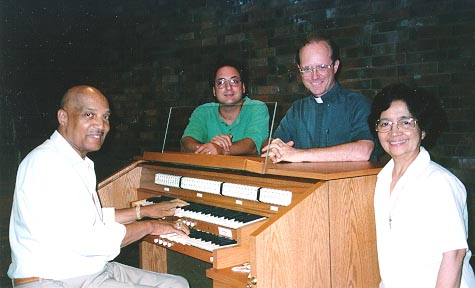 Bob Wyatt plays the new organ at St. Mary's while Mike Corio (left rear),
Service Manager of Allen Organ Studios, Father Ogle (second from right), pastor,
and Sister Consueolo Arevalo (right), Director of Music and Organist, look on.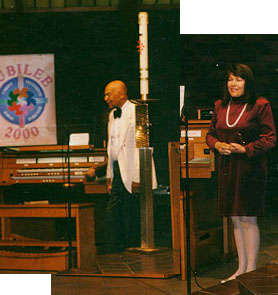 Claire Arnold and Bob Wyatt performed the dedication concert!

In a letter dated December 6, 1999, Father Ogle, pastor of St. Mary's, had this to say.
"St. Mary's Church is a parish of over 1200 people who hail from at least 40 different countries and where Mass is celebrated in 3 languages regularly for every conceivable ethnic group. Our music program comprises as many as six different choirs according to age and language. So our musical needs cover a wide and challenging range. Yet our community is by no means a prosperous one.
"Our previous organ was a nearly fifty-year-old Hammond electronic which had seen better days. After determining that it was no longer cost-effective to repair it, Sister Consuelo, our music director, and I formed a search committee of about 8 people representing the various ethnic groups of the parish. We visited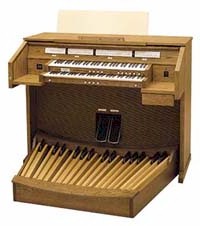 seven different churches representing four different organ companies in the price range we had established. After reviewing all the data gathered, we came to a consensus that the Allen Prot??6 was the model that best suited our pastoral, musical and economic requirements.
"Our visit to the Allen plant in Macungie, PA, only reinforced our judgment that Allen was the company that could offer us the best product, service and aesthetic quality. We were greatly pleased with the attentive service Claire Arnold and Bob Wyatt provided us, and even more delighted with the first-class dedicatory organ recital they gave the parish a few months after installation.
"We organized a special fund-raising campaign which enabled us to have the organ installed debt-free. A new organ has a special appeal that motivates people to go beyond their normal giving levels.
"The reviews by the people for our new organ have ranged from positive to glowing. Allen Organ has truly proved itself a friend to St. Mary's parish."

Respectfully yours,




Rev. Sean G. Ogle
Pastor
In a note dated 1/5/2001, Father Ogle says:
"The organ is doing fine and we had another good Christmas concert with our 8 parish choirs. We hosted the ecumenical service for the area this year and were proud of our fine instrument with our visiting organists. Happy new year and thanks!"