Community Reform Temple of Westbury
Westbury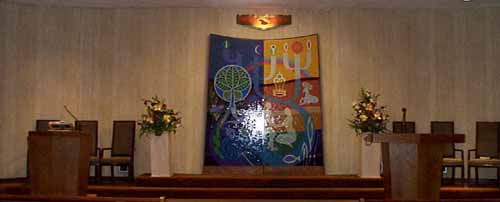 Having guided the organ committee through the maze of possible paths to take when their old, small, and inadequate instrument could no longer be counted upon, Robert Bobek, organist, became much better known to the congregation over the period of time before the new organ was chosen. Now his expertise as a fine organist can be heard as well as appreciated and is no longer limited by the organ on which he is playing. A new Chamber Series C-6c was installed in the Community Reform Temple of Westbury.
"It's been great," said Rabbi Judy Cohen-Rosenberg. "We're very pleased with the organ. It has greatly enhanced our worship service."
Mr. Bobek said, "People who had never spoken to me before (even though I have been organist here for nearly eight years) came to me to express their feelings of joy after the first High Holy Days with the new organ. But the greatest surprise I received was the significant (and I mean significant!) raise that I was given." Mr. Bobek also plays two Allen organs in his position as Director of Music and Organist for the Church of Our Lady of the Assumption in Copiague.
Dr. Ronald Menzin, president of the Synagogue, said, "The new organ sounds great and the digital [Smart Recorder] sequencer really works well. It made quite a difference in the High Holy Days for us this year. Thank you for everything."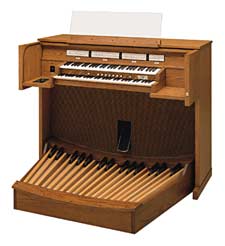 C-6c STOP SPECIFICATIONS

General
Gt-Pd Unenclosed
Bass Coupler
Melody Coupler
Tremulants Full
Console Speakers Off
External Speakers Off
Memory B
Virtual Acoustics™

Great
8 Diapason
8 Harmonic Flute
8 Flute Celeste II
4 Octave
4 Spitzfl?e
2 Fifteenth
Mixture IV
Chimes
Tremulant
Swell to Great
MIDI on Great

Swell
8 Gedackt
8 Viola Pomposa
8 Viola Celeste
4 Octave Geigen
4 Traverse Flute
2 2/3 Nasard
2 Piccolo
1 3/5 Tierce
Fourniture IV
16 Basson
8 Trompette
Tremulant
MIDI on Swell

Pedal
16 Bourdon
16 Lieblichgedackt (Sw)
8 Octave
8 Fl?e
4 Choralbass (Gt)
Mixture IV
16 Posaune
4 Clairon
Great to Pedal
Swell to Pedal
MIDI on Pedal


Design & Development of this page: HMP
Copyright ©2000-2003 Allen Organ Studios, Inc.
All rights reserved.