St. Frances De Sales Roman Catholic Church
Patchogue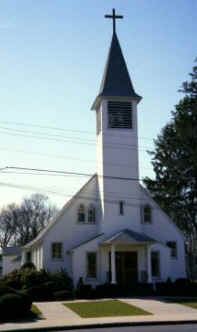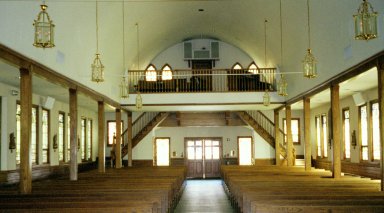 The splendid St. Francis De Sales Roman Catholic Church began in a mission church (a bungalow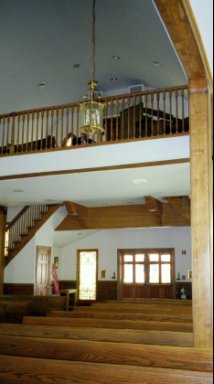 structure, with a pot belly stove, built by the Methodist Community in 1833) located on West Main Street and Waverly Avenue. In 1854, the Catholics purchased this building. As parishioners increased, a larger church was needed and in 1888, under the direction of Reverend Felix O'Callaghan, the present church was built on the corner of East Main Street and Conklin Avenue. In 1906, the building was moved to its present foundation, by using oil greased skids and several teams of horses. The move started on December 8, 1906. This process took three months to complete during a bitter cold winter. On March 7, 1907, the church was set on its new foundation in the present location.This building underwent renovation in 1922, and again in the nineties. On the left, is the Chapel of the Blessed Sacrament.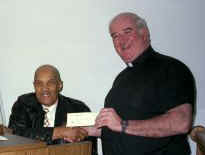 Father Bob Clerkin, right, pastor, says "the new organ has made a big difference in the liturgy and the people have been very pleased."
C-6 STOP SPECIFICATIONS

General
Gt-Pd Unenclosed
Bass Coupler
Melody Coupler
Tremulants Full
Console Speakers Off
External Speakers Off
Memory B
Virtual Acoustics™

Great
8 Diapason
8 Harmonic Flute
8 Flute Celeste II
4 Octave
4 Spitzfl?e
2 Fifteenth
Mixture IV
Chimes
Tremulant
Swell to Great
MIDI on Great

Swell
8 Gedackt
8 Viola Pomposa
8 Viola Celeste
4 Octave Geigen
4 Traverse Flute
2 2/3 Nasard
2 Piccolo
1 3/5 Tierce
Fourniture IV
16 Basson
8 Trompette
Tremulant
MIDI on Swell

Pedal
16 Bourdon
16 Lieblichgedackt (Sw)
8 Octave
8 Fl?e
4 Choralbass (Gt)
Mixture IV
16 Posaune
4 Clairon
Great to Pedal
Swell to Pedal
MIDI on Pedal
---
Design & Development of this page: HMP
Copyright ©2000-2003 Allen Organ Studios, Inc.
All rights reserved.