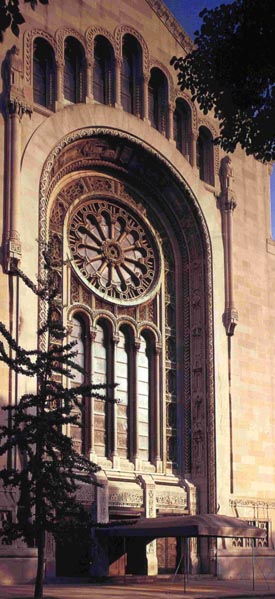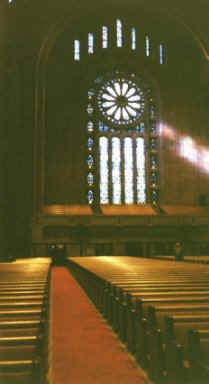 Temple Emanu-El stands on the northeast corner of Fifth Avenue and 65th Street in Manhattan, where its smooth limestone fa?de is pierced by a great archway, and the sunlight seeks out its exotic carvings, its setbacks, and its great round stained glass window.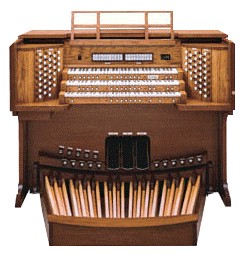 When this great Reform Jewish congregation recently added a new worship space, a three-manual Allen Master Design Series MDS-51S was chosen for the new Greenwald Hall and is played daily for the 5:30 PM Service.

Above left, the facade of Temple Emanu-El Architects for this impressive structure were Robert D. Kohn, Charles Butler, and Clarence S. Stein. This photograph is from "A Temple Treasury: The Judaica Collection of Congregation Emanu-El of the City of New York."
Visit their web site at www.emanuelnyc.org.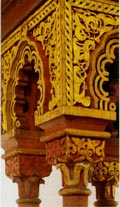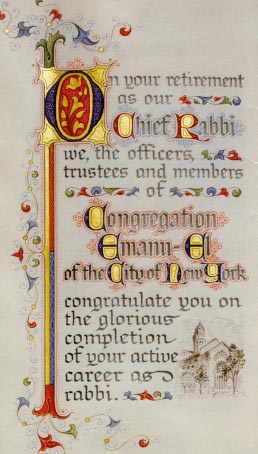 (At left) A sample of the extraordinary architecture that is found in Temple Emanu-El.

(To the right) Testimonial to the Reverend Doctor Samuel H. Goldenson on the Occasion of His Retirement as Chief Rabbi of Congregation Emanu-El of the City of New York, December 28, 1947.
Maker: Ames & Rollinson, N.Y., New York, 1947.