Glen Morris Presbyterian Church
Ozone Park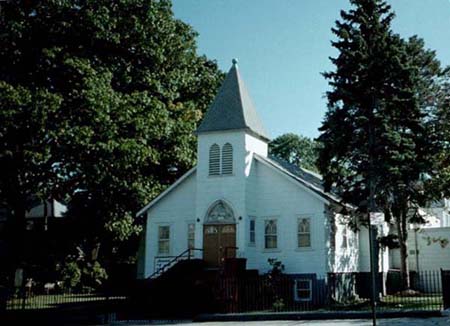 This lovely church in New York City is filled to capacity every Sunday with many people who originally lived in the West Indies. They have told their pastor, the Rev. David Brettell, that they love Glen Morris Presbyterian Church because it reminds them so much of the country churches in their home lands.

Recently the organ committee of more than a dozen were able to make an appointment, visit two installations, and order the organ within one week. This unusual situation was the result of the fact that the decision to purchase an Allen organ had actually been made 10 years earlier after Bob Wyatt had done his first Allen demonstration for this church. Through faith, planning, and donors, the goal was reached.
"It's wonderful. After hearing the organ the first Sunday after it was installed, the people decided that we had to start a choir. The beautiful organ music has really inspired our congregation. Thank you so much," said Pastor David Brettell, whose wife Elaine is the organist.

This instrument is complete with an Allen Expander II that adds
100 extra organ and orchestral voices to the organ specification
and an Allen Smart Recorder that is equipped for remote playback !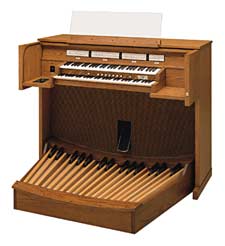 C-6c STOP SPECIFICATIONS

General
Gt-Pd Unenclosed
Bass Coupler
Melody Coupler
Tremulants Full
Console Speakers Off
External Speakers Off
Memory B
Virtual Acoustics™

Great
8 Diapason
8 Harmonic Flute
8 Flute Celeste II
4 Octave
4 Spitzflote
2 Fifteenth
Mixture IV
Chimes
Tremulant
Swell to Great
MIDI on Great

Swell
8 Gedackt
8 Viola Pomposa
8 Viola Celeste
4 Octave Geigen
4 Traverse Flute
2 2/3 Nasard
2 Piccolo
1 3/5 Tierce
Fourniture IV
16 Basson
8 Trompette
Tremulant
MIDI on Swell

Pedal
16 Bourdon
16 Lieblichgedackt (Sw)
8 Octave
8 Flute
4 Choralbass (Gt)
Mixture IV
16 Posaune
4 Clairon
Great to Pedal
Swell to Pedal
MIDI on Pedal


Design & Development of this page: HMP
Copyright ©2000-2003 Allen Organ Studios, Inc.
All rights reserved.