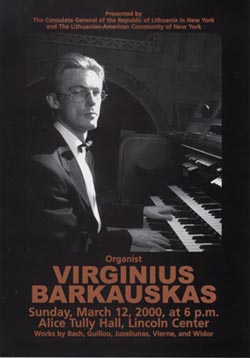 Virginius Barkauskas has performed throughout the United States and Lithuania as a guest solo organist. Some of his outstanding performances have been at the National Cathedral of Saint Peter and Paul, the Basilica of the National Shrine of the Immaculate Conception in Washington, D.C., St. Mary's Cathedral in San Francisco, California, and the Cathedral of Mary Our Queen in Baltimore, Maryland. Other noteworthy appearances have been at Valparaiso University in Valparaiso and St. Joseph's College in Rensselaer, both in Indiana.
Mr. Barkauskas was born in 1964 in Lithuania and began to study music at the age of ten in a specialized music school. After graduating from the Music College of Kaunas, he continued his studies in organ performance at the Lithuanian National Academy of Music under Prof. Leopoldas Digrys. He also pursued a second major in piano under Liana Baronaite.
Having received a full scholarship from the United States Bishop's Conference, he completed his Master of Arts Degree in Music at St. Joseph's College in Rensselaer, Indiana. While there, Mr. Barkauskas studied under the renowned organist-composer Dr. Philip Gehring.
Mach 12, 2000, at 6 p.m., he will be presenting a recital in Alice Tully Hall, Lincoln Center, in commemoration of the 10th Anniversary of the Reinstatement of Independence of the Republic of Lithuania.
Pictured below, are Mr. Barkauskas & his family with his new Allen Prot╚g╚ AP-4 practice organ.